At first, it was innocent and pretty…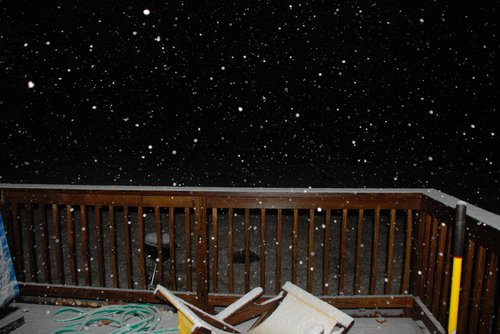 A few hours later, however, it got worse:
The front view wasn't much better, albeit pretty in its own way:
Pogle actually went out in the middle of the night and whacked our two dogwoods (one of which is the tree above) with a broom to knock the snow off, hoping to prevent the weight from snapping any branches.
Alas, there were still casualties:
A closeup of the damage:
The snow caused another problem in our neighborhood: we lost power for approximately 30 hours. And it was cooooold! We ended up sticking our milk and butter in the snow to keep it cold (temperatures were below freezing) and piling the ferrets into the bedroom with us overnight.
Where we learned that ferrets snore, very very cutely.
A rather unexpected adventure in our neck of the woods. Thankfully, pog and I were able to rely on each other and get through without any major losses to our home or budget.
A final victim:
One perfectly frozen Daffodil.