« Posts tagged Recipes
A simple yet amazingly good recipe.
One of pog's favorite stories is about home ec and the rather strong spaghetti sauce he made. The boy simply loves garlic. I started making homemade spaghetti sauce not long after we were married and it is still his favorite thing for me to make him. As for me, as picky as he is I'll jump at any chance to get some veggies down his gullet. Thankfully I love garlic too.
The materials aren't expensive and you can season it however you prefer. If you end up making this regularly like us, a trip to Sam's Club might end up looking something like this: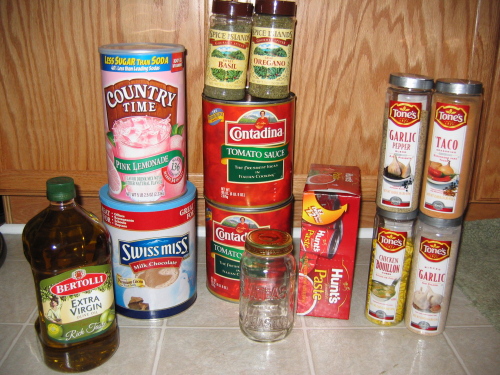 I just had to show off our other finds too. 😉 Mason jar for scale (recycled from purchased sauce and used for storing homemade sauce in the refrigerator).
Here's my newest recipe for Pogle's Favorite Garlic Spaghetti Sauce with Meat:
Ingredients
1 lb ground beef
2 28-oz cans of tomato sauce
2 6-oz cans of tomato paste
4 cloves garlic, chopped
1 teaspoon dried onion, ground
2 teaspoons oregano
1 teaspoon basil
1 teaspoon Garlic Garni (a garlic seasoning mix; eliminate or replace with more of the above)
Directions
Cook ground beef in a skillet until browned; drain off or absorb fat (I use paper towels for this).
In a large crockpot, combine cooked ground beef, tomato sauce, tomato paste, garlic, and seasonings. Mix well and cook on low for about 4 hours.
Be tortured by the smell until it is done.
After 4 hours, turn off the crock pot. I recommend that you make some spaghetti or breadsticks to eat with the fresh sauce. Nomnomnom. Leave remaining sauce in the crockpot to cool.
When the crockpot is cool enough to work with, you can either put the entire thing in the fridge (I only do this overnight or so; do place a potholder down, just in case!) or get out a couple of mason jars to fill up. The acidity levels of tomato-based sauces will keep this sauce good for a very long time in the fridge.
Be sure to use some bread to clean the inside of the crockpot. Why let it go to waste?! Nomnomnom.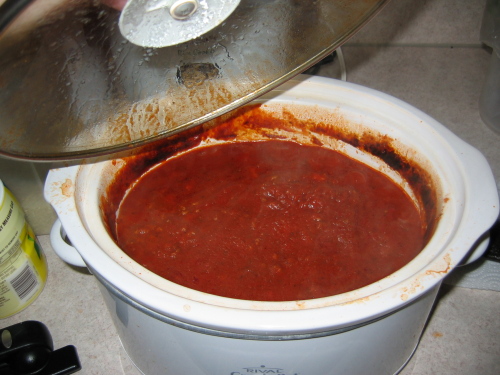 This recipe is guaranteed to give you garlic breath, so make sure you share with those closest to you to inoculate them to the smell.